Appreciate Art at Family Day – Elmhurst Toyota Dealer
Family Day at Elmhurst Art Museum promises to be both educational and fun. The event takes place on Saturday, June 23. Family Day allows families to take part in art-related activities centered around the Elmhurst Art Museum's current art exhibits: "Iñigo Manglano-Ovalle: Untitled Film (Red)" and "Mies's McCormick House Revealed: New Views." At Elmhurst Toyota, we believe in the importance of exposing children to art. This is a great opportunity for the family to experience the exhibits at the newly reopened McCormick House. You and your kids will enjoy creating art at Family Day.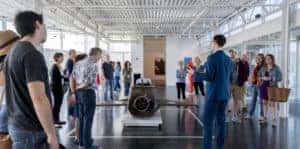 McCormick House is a single-family home designed by renowned architect Mies van der Rohe in 1952. Located next door to the museum, McCormick House was recently closed for restoration to the building's exterior. Previously, the home was attached to the museum through a hallway. The structure now stands alone, affording visitors with a complete view of the façade for the first time in nearly 25 years.
Both exhibits are located in three galleries inside the McCormick House. The first gallery contains models of prefabricated houses built in Elmhurst in the '50s, along with photos and drawings of similar homes in Elmhurst and Chicagoland. The second gallery features an international exhibit that showcases mid-century, glass-walled dwellings in North and South America. This section of the exhibition, called "Glass Houses," is on loan from São Paulo, Brazil. The last gallery includes outstanding photography that reflects the transparent quality of the glass walls designed by Mies van der Rohe, including work by Scott Fortino, Veronika Kellndorfer, Luisa Lambri and Iñigo Manglano-Ovalle.
The Elmhurst Art Museum has many fun art activities for the family to enjoy on Family Day. We hope you'll stop by.
Date and Time:
June 23, 2018, 1-4 p.m.
Location:
Elmhurst Art Museum
150 Cottage Hill Ave.
Elmhurst, IL 60126
Admission:
Free with museum admission and for museum members.
$12 for adults
$10 for seniors
Free for students and anyone 18 or under
For More Information:
Visit www.elmhurstartmuseum.org/explore/programs or call 630-834-0202.