Beloved Community Celebrates Martin Luther King Jr. – Elmhurst Toyota Dealer
Join First Congregational UCC for Beloved Community, a virtual remembrance of Dr. Martin Luther King Jr. on Monday, January 18, from 10-11 a.m. This virtual event features the Rev. Robert E Buckner II, who will discuss the principles behind Dr. King's nonviolent social change movement. Dr. King's contributions to the civil rights movement of the 1950s and 1960s became a catalyst that helped establish the Civil Rights Act and the Voting Rights Act. At Elmhurst Toyota, we honor the memory of Dr. Martin Luther King Jr. We hope you get a chance to attend this virtual presentation, which promises to be informative and enlightening.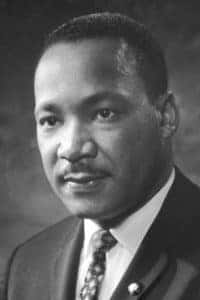 Martin Luther King Jr. was a Baptist minister and activist whose name became synonymous with the civil rights movement. Inspired by his Christian beliefs and the nonviolent activism of Mahatma Gandhi, Dr. King believed in advancing the cause of civil rights through nonviolence and civil disobedience. In 1964, he became the youngest person to receive the Nobel Peace Prize. The following year, Dr. King helped organize marches from Selma to Montgomery, Alabama. He was assassinated in 1968.
Beloved Community is the result of a collaboration between First Congregational Church, Elmhurst University and area churches. The guest speaker, Rev. Robert Buckner II, is the Associate Minister to young adults and men at Covenant UCC in South Holland, Illinois. Rev. Buckner holds a B.A. in Political Science from Western Illinois University and a Master of Divinity from McCormick Theological Seminary. He is the author of two books.
Celebrate Martin Luther King, Jr. Day on January 18 at Beloved Community. Explore Dr. King's principles and discover their relevance today.
Date and Time:
Monday, Jan. 18, 2021, 10-11 a.m.
Location:
Beloved Community is a virtual event you can access via Zoom.
Admission:
Admission is free. Registration is required. Register at https://form.jotform.com/203134637996161.
For More Information:
Contact Martha at 630-832-2580 or visit https://elmhurstucc.org.