Car Care During the Coronavirus Pandemic – Elmhurst Toyota Dealer
We've been instructed to stay home during the current Coronavirus pandemic, and this means most of us haven't been using our cars very much. Although your vehicle may be sitting in the garage, you'll want to make sure it's reliable, so you can drive it when you have to go out. Elmhurst Toyota presents the following car care tips to help ensure your car will work properly when you need it.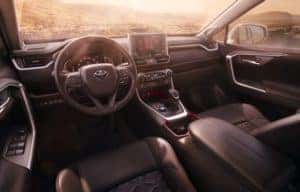 Drive the car periodically.
When cars are parked for long periods, several problems can occur, including loss of battery charge, flat spots in the tires, and rubber parts like wipers and belts drying out. For this reason, we recommend driving your car once a week for 20 minutes or more to ensure the battery stays charged. This is a good time to vacuum the carpet and check for things like food or snacks that have been left in the vehicle.
Check your car's oil level.
You'll find information on the proper oil level for your vehicle in the owner's manual. If the level is low, you can add the correct motor oil for your car. Call our service department if you have any questions or you need to purchase oil. Our service and parts department are open for business during Governor Pritzker's "Shelter in Place" order.
Inspect your vehicle's tires.
Look for uneven wear and damage. Check to see if the tires are properly inflated according to the recommended tire pressure. You can find this on the sticker in the driver-side doorjamb. If your car has a spare tire, don't forget to check it as well.
Wash your car.
Washing your car will protect the paint. You can use a drive-thru car wash, but make sure to use hand sanitizer if you touch the keypad. If you hand-wash your car, use a dedicated sponge and car wash soap. Use a separate sponge for the wheels and tires to avoid marring the finish.
Clean and disinfect the vehicle's interior.
Use a cleaner made for cars. Isopropyl alcohol will kill the virus. Avoid using bleach or hydrogen peroxide as these can damage the interior. Touchscreens contain anti-glare and fingerprint-resistant coatings, so don't use ammonia-based cleaners on the displays.