'Cue for a Cause is a Delicious Fundraiser – Elmhurst Toyota Dealer
If you're hankering for some great barbecue, it can only mean one thing: It's the season for 'Cue for a Cause, which takes place on Sunday, September 1. This annual Elmhurst barbecue competition is back, and it promises to be bigger and better than ever. While you're enjoying the area's best barbecue ribs and chicken, you'll also be supporting a great cause, as the proceeds will benefit the Elmhurst Walk-In Assistance Network. Admission to 'Cue for a Cause is free, so head over and experience this great local event. You and your family can come for lunch or dinner (or both), as this delicious fundraiser runs from noon until 8 p.m. We have some real barbecue lovers here at Elmhurst Toyota, and we look forward to this event every year during the Labor Day weekend.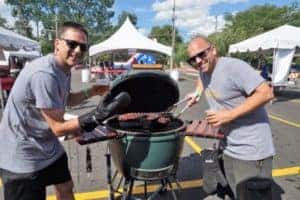 At 'Cue for a Cause, you'll watch as competitors roll up their sleeves to see which team will emerge victorious. The teams will compete in rib, chicken and sauce categories. There will be many winners, but only one contestant will emerge as the Grand Champion, who will take home the coveted trophy and a $250 cash prize.
You can taste the first-rate assortment of homemade barbecue sauces and vote for your favorite in the People's Choice Award. Sample beer, wine or soft drinks. There will be some great prizes on hand in the raffle, including tickets to Chicago sporting events, theater tickets, restaurant gift certificates and more! Kids will love the play area and children's activities.
The Elmhurst Walk-In Assistance Network has been helping members of the community since 1997. Their services include emergency assistance to help those in need pay for things like prescriptions, food, housing, food, clothing, utility bills, gas and more.
Date:
Sunday, September 1, 12:00 p.m.
Location:
City Parking Lot at York and Vallette
Elmhurst, IL 60126
Admission:
Admission is free. Food, beverages and raffle tickets are available to purchase.
More Information:
For more information, visit www.elmhurstwalkin.org/events. For more information about Elmhurst Walk-In Assistance network, email walkin97@ewanet.org or call 630-782-6006.