Discover Modern Architecture at Wright Before the "Lloyd" – Elmhurst Toyota Dealer
Architecture fans and history buffs will enjoy Wright Before the "Lloyd" an upcoming exhibition at the Elmhurst Art Museum. From September 10 through February 12, visitors can explore architect Frank Lloyd Wright's investigative work through a wealth of images and artifacts. At Elmhurst Toyota, we're grateful to have a fantastic organization like the Elmhurst Art Museum in our city. Wright Before the "Lloyd" is sure to be an interesting exhibition.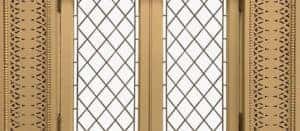 It was challenging for the exhibition's organizers to gather material to tell the story of Frank Lloyd Wright's nascent work. (The name of the exhibit refers to the original signature used by the architect: "Frank L. Wright.") While much of the material from this time has been lost by fire, deterioration and demolition, Chicago cultural historian Tim Samuelson rescued and reconstructed a number of pieces. The designs were reassembled using cutting-edge technology and restored to their original colors and appearance.
Tim Samuelson has been Chicago's official cultural historian since 2002. He has been committed to local preservation for many years, and he played a significant part in the Commission on Chicago Landmarks in the '80s.
Admission to Wright Before the "Lloyd" comes with a free, socially distanced self-guided outdoor walking tour of modern architecture in Elmhurst, the only city featuring houses by Mies van der Rohe and Frank Lloyd Wright. Check out the exhibition and then tour Elmhurst's architectural delights.
Wright Before the "Lloyd" is presented in conjunction with the Elmhurst History Museum and its companion exhibition, Frank Lloyd Wright: Architecture of the Interior, which opens on October 23 and runs through December 20.
Date and Time:
September 10, 2020, through February 12, 2021.
Address:
Elmhurst History Museum
120 East Park Ave.
Elmhurst, Illinois 60126 
Admission:
Adults: $15
Seniors (65 and over): $12
Children under 18: Free
Students with school ID: Free
Free to the public on the first Friday of each month
The museum advises non-members to buy advance tickets. Visit www.elmhurstartmuseum.org/visit/covid to buy tickets and learn about the museum's COVID procedures. All tickets include the walking tour.