Elmhurst Artists' Guild Fall Members Show – Elmhurst Toyota Dealer
Many exceptional artists choose to live and work in Elmhurst and the Chicago area. That's one of the reasons we at Elmhurst Toyota are proud to be members of the community. We wanted to let you know about an outstanding art exhibition: The Elmhurst Artists' Guild Fall Members Show. Visitors have the opportunity to view contemporary artwork by Elmhurst Artists' Guild (EAG) members. This exhibition runs until Nov. 4, 2017.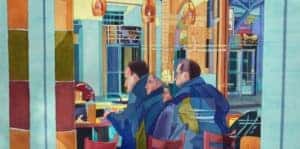 The show features the work of more than 50 Chicago-area artists. The wide range of media and styles includes oil, watercolor, acrylic, collage, digital, photography, ceramics and sculpture.
Works on display include "Josh's Rocks," a woodblock print by printmaker Ben Calvert; "Corner Diner," a watercolor painting by Bret Steinhaus; "Crown Fountain at Millennium Park," a painting by Tony Abboreno; and "Fall Birch," an acrylic painting by Kera Bjerga.
Most pieces on display are offered for purchase. According to EAG President Cassie Swierenga, the gallery offers a chance to obtain great art by area artists at reasonable prices. It's a way to support local artists while making our homes and offices more beautiful.
The EAG gallery is not-for-profit, operated by the Elmhurst Artists' Guild. EAG members come from many disciplines, such as professional artists, educators, self-taught artists, corporate art directors, woodcut printmakers, feature film animation artists and even tombstone carvers.
So, check out the Elmhurst Artists' Guild Fall Members Show. You'll see artwork by some talented artists and you just might find the perfect piece for your home or office.
Date and Time:
The exhibition runs through Nov. 4, 2017. The public can view the exhibition during Museum hours, Tuesday, Wednesday, Thursday, Saturday and Sunday from 11 a.m. to 5 p.m. and Friday from 11 a.m. to 7 p.m.
Location:
Elmhurst Artists' Guild Gallery at Elmhurst Art Museum
150 S. Cottage Hill Ave.
Elmhurst, IL 60126
Admission:
Admission is $9 for adults. Seniors are admitted for $8. Admission is free on the first Friday of the month. Admission for Guild members, Museum members, students and children is always free.
For More Information:
Visit elmhurstartmuseum.org or elmhurstartistsguild.org.