Enjoy Holiday Cheer at the Tree Lighting in Wilder Park – Elmhurst Toyota Dealer
Get into the Christmas spirit on Thursday, December 5 at the annual Tree Lighting in Wilder Park. Your family will enjoy the host of holiday events. The festivities kick off at 5:30 p.m. and continue through 7:30 p.m. There's a lot of holiday fun the Tree Lighting, so make sure you don't miss it! At Elmhurst Toyota, our customers always love this free event, so we encourage everyone to attend.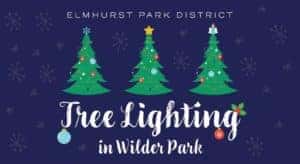 At the Tree Lighting in Wilder Park, kids will have a chance to meet Santa, or head into Wilder Mansion to write him a letter. Children can attend story time and bookmark craft, courtesy of Elmhurst Public Library. There will be lots of holiday entertainment for the kids to enjoy, as well as activities such as cookie decorating, holiday crafts and face painting. Elsa and Anna from Disney's "Frozen" movies will be there too, walking through the park to greet the children. Starbucks will supply free beverages and goodies, and the Hawthorne Children's Choir will take the stage to perform holiday favorites.
If last year was any indication, there will be a large turnout at the Tree Lighting in Wilder Park this year. Wilder Mansion is the perfect setting for counting down the seconds until the trees are lit. Sixty holiday trees will be lit, each one decorated by different individuals, families and organizations.
Wilder Mansion will be open during the tree lighting event. So, bundle up to stay warm and head to Wilder Park on December 5 to take part in this annual holiday tradition!
Date and Time:
Thursday, Dec. 5, 2019, 5:30-7:30 p.m. The Tree Lighting at Wilder Park starts with a holiday sing-a-long at 5:30 p.m., followed by the arrival of Santa Claus at 5:45 p.m.
Location:
Wilder Park
175 S. Prospect Avenue
Elmhurst, IL 60126
Admission:
Free.
For More Information:
Contact the Elmhurst Park District at 630-993-8900 or visit www.epd.org/news/tree-lighting-wilder-park-2.