Enjoy Spooky Stories and Songs of the Season – Elmhurst Toyota Dealer
It's the time of year when adults and children alike can don scary costumes and take part in all the Halloween season has to offer. One event that should be a part of your Halloween itinerary this year is the GreenMan Theatre Troupe's "Spooky Stories and Songs of the Season." You can experience this annual event on Friday, Oct. 19 or Saturday, Oct. 20 at the First United Methodist Church. At "Spooky Stories and Songs of the Season," you'll enjoy spooky stories, traditional folk tales, haunting musical interludes and more! If you've experienced this unique event in the past, you know it's a great performance, which is why all of us at Elmhurst Toyota recommend attending.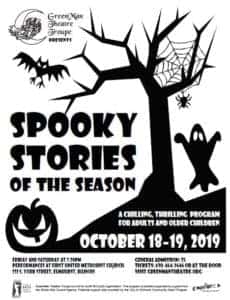 "Spooky Stories and Songs of the Season" is suitable for adults and children seven years old and up. The performance consists of two seats and an intermission. The scary stories and creepy songs were
The show is performed in two sets with an intermission. The stories and songs were developed by the members of Carolyn Thomas-Davidoff's storytelling class. The performance includes a number of different genres, with stories ranging from traditional to urban legends.
Some of the stories in store for audience members of "Spooky Stories and Songs of the Season" include "La Llorona," the Weeping Woman story that originated in Mexico and the American Southwest; "John Tangle and the Witch Cat," a southeastern American tale; "The Gruesome Test" from Japan;  and "Skeleton Woman," a story from the far north. Also included are "The Babysitter," "The Seamstress in the Graveyard" and "Next of Kin."
GreenMan Theatre Troupe was founded in 20014. The Elmhurst-based theatre group stages performances and holds theatre classes and workshops in theatre arts.
Date and Time:
Friday Oct. 18 and Saturday Oct. 19, 7:30 p.m.
Location:
First United Methodist Church
232 S. York Street
Elmhurst, Ilinois 60126
Admission:
General admission is $5. Tickets are available at the door. Call 630-464-2646 for reservations.
For More Information:
Visit www.greenmantheatre.org or call 630-464-2646.