Experience Luftwerk: Parallel Perspectives – Elmhurst Toyota Dealer
Luftwerk: Parallel Perspectives is a unique exhibit that runs through August 25, 2019, at the Elmhurst Art Museum. This exhibit, which was created specifically for this installation, uses elements of color and light to transform McCormick House. The art project was designed by Luftwerk, a partnership between Chicago-based artists Sean Gallero and Petra Bachmaier. The installation will shift your perspective while utilizing the architecture of the mid-century house. At Elmhurst Toyota, we appreciate the world-class artists in our community, and we hope you'll attend this unique exhibition.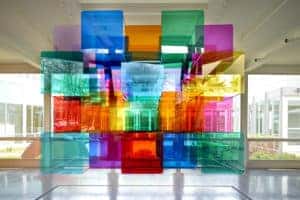 The inspiration to use color to alter the geometry of McCormick House, designed by Mies van der Rohe, came from Robert Hall McCormick and Herbert S. Greenwald, the building's developers. The pair once considered tinting the proposed prefab development's buildings "almost any shade of the rainbow."
Luftwerk: Parallel Perspectives will amaze and delight you with its exceptional use of color and light that incorporates changing components. Experience a bedroom transformed by light, panes of colored glass, neon and mirror effects, and pulsating light boxes. You'll experience color effects that will alter your perception of space while honoring McCormick House as a prefab housing prototype.
The exhibit is part of Bauhaus100, a worldwide celebration of the anniversary of the famous German art school. Luftwerk: Parallel Perspectives continues the year-long investigation of Mies' architecture, which began with the Barcelona Pavilion and finishes at the Farnsworth House.
Date and Time:
Through Sunday, August 25, 2019, during regular museum hours. The Elmhurst History Museum is open Tuesday through Sunday, 11 a.m. to 5 p.m. Please note: The Museum, McCormick House and Guild Gallery will close early at 3 p.m on Saturday, June 29th for private events.
Location:
Elmhurst Art Museum
150 S. Cottage Hill Ave.
Elmhurst, IL 60126
Admission:
The exhibit is free with museum admission.
For More Information:
Visit https://bit.ly/2ZBppmS.