Experience Mozart Magic at Mayslake – Elmhurst Toyota Dealer
Set aside the afternoon of Jan. 11, 2020 and enjoy the music of Mozart Magic. This concert is presented by the Elmhurst Symphony Orchestra and takes place at Mayslake Peabody Estate. Conducting the orchestra will be Stephen Alltop, the Orchestra's Music Director and Conductor. Fans of classical music won't want to miss this event, and the staff at Elmhurst Toyota encourages Elmhurst area residents to bring the family and enjoy this concert of favorites.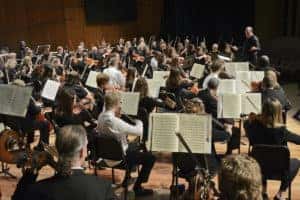 The musical selections that will be performed by the Elmhurst Symphony Orchestra at Mozart Magic include Mozart's Serenade in E-flat major, Serenade in C minor and Divertimento in F major. The Symphony Strings will perform Ave Verum Corpus in a special surround-sound staging, as well as Stravinsky's Octet.
Visitors are encouraged to come early and take the tour of Mayslake Mansion from 1-2 p.m. Or make a point to listen to Dr. Ted Hatmaker's talk at 1:45, entitled Behind the Music Stand.
Elmhurst music lovers already know that attending a concert by the Elmhurst Symphony Orchestra is a treat. If you haven't attended one of their concerts yet, you're sure to have a great time. So, make plans to visit the Mayslake Peabody Estate on Jan. 11 for Mozart Magic.
Date and Time:
Saturday, Jan. 11, 2020
The one-hour guided tour of Mayslake Mansion starts at 1 p.m. Behind the Music Stand starts at 1:45 p.m. The Mozart Magic concert begins at 2:30 p.m. Doors open at 2 p.m.
Address:
Mayslake Peabody Estate
1717 West 31st Street
Oak Brook, IL
Admission:
Tickets to Mozart Magic are general admission. Tickets are $30 per person. Student tickets are $12. The cost for the guided tour of Mayslake Mansion is $5. Parking is free, and the venue has accessible parking and facilities.
For More Information:
Call 630-941-0202 or visit www.elmhurstsymphony.org for tickets and information.