Explore Dino Discoveries at the Lizzadro Museum – Elmhurst Toyota Dealer
Explore Dino Discoveries at the Lizzadro Museum – Elmhurst Toyota Dealer
The Lizzadro Museum of Lapidary Art will hold an interactive lecture called Dino Discoveries on Saturday, March 23, 2019 from 2-2:50 p.m. Join your host, "Paleontologist Illinois Bone" to learn about the time when dinosaurs walked the earth. Find out what they looked like and which species of animals alive today share characteristics with the giant beasts. "Dr. Bone" uses props, fossils and live animals to bring the world of dinosaurs to life. This interesting lecture is open to everyone from ages 4 through adult. All of us at Elmhurst Toyota encourage you to attend the Dino Discoveries lecture at the Lizzadro Museum. "Dr. Bone" is a fun, engaging teacher who is full of fascinating facts!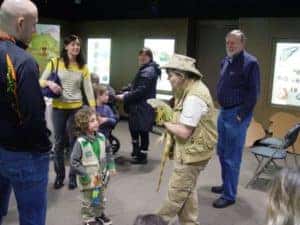 We know what dinosaurs looked like and how they lived because they left behind many clues in the form of their fossilized bones, teeth, footprints and even their unhatched eggs. Dinosaurs of all kinds thrived in their primordial world until about 65 million years ago, when something happened to wipe land-dwelling dinosaurs off the face of the Earth. Some scientists believe that a meteor collided with the Earth, and its tremendous impact caused rapid climate change that killed off the dinosaurs.
Thanks to the science of DNA, it's possible to determine which of today's birds, animals and sea creatures are most closely related to dinosaurs. "Dr. Bone" will use fossils and other materials to highlight some of the common characteristics of dinosaurs. With the help of some live animals, "Dr. Bone" will show that they have some of the same characteristics as a result of shared DNA with dinosaurs.
Reservations are recommended for Dino Discoveries, so save your seats today by calling the Lizzadro Museum at 630-833-1616 or emailing educator@lizzadromuseum.org. We hope to see you there!
Date and Time:
Saturday, March 23, 2019, 2-2:50 p.m.
Location:
Lizzadro Museum of Lapidary Art
220 College Hill Ave.
Elmhurst, IL 60126
Admission:
The cost is $5 per person.
Lizzadro Museum members may attend for free.
For More Information:
Call 630-833-1616 or visit www.lizzadromuseum.org.