Family Day Workshop: Puppets – Elmhurst Toyota Dealer
If you have young children, head over to the Elmhurst Art Museum on Saturday, March 14, for Family Day Workshop: Puppets. Inspired by the museum's current exhibition, Could Be Architecture: McCormick AfterParti, this workshop encourages kids to explore storytelling and character design by creating their own puppets. At Elmhurst Toyota, we're continually impressed by the many family activities provided by the Elmhurst Art Museum, and we'd like to encourage families to attend this fun event.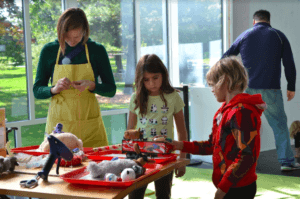 Storytelling using puppets has a very long tradition. Puppetry is an ancient art form with roots that go back approximately 4000 years. In fact, some historians believe that storytelling with puppets pre-dates human actors in the theater. There's even evidence that puppets were used in Egypt as far back as 2000 BC. Puppets constructed from clay and ivory were even discovered in Egyptian tombs. Ancient hieroglyphs tell of "walking statues" used in Egyptian religious dramas. Telling stories with puppets was also common in Ancient Greece as long ago as the 5th century BC.
Visitors to Family Day Workshops: Puppets are invited to attend Could Be Architecture: McCormick AfterParti, a collaboration between artists Joseph Altshuler of Chicago and Elmhurst resident Zack Morrison. The pair describe their designs as "seriously playful spaces, things and happenings that celebrate what your world could be." Visitors to the workshop can also take advantage of the opportunity to explore McCormick House in its original 1952 floor plan.
If you've never visited the McCormick house before, you're in for a treat. So, bring the kids to Family Day Workshops: Puppets for a fun afternoon experience.
Date and Time:
March 14, 2020, 1-4 p.m.
Location:
Elmhurst Art Museum
150 Cottage Hill Ave.
Elmhurst, IL 6026
Admission:
Free with museum admission. Kids are always free.
For More Information:
Visit www.elmhurstartmuseum.org.