Feel the Excitement at Skating Tricks of the Trade – Elmhurst Toyota Dealer
This Wednesday, July 18, you can watch talented skaters show off their skills at Skating Tricks of the Trade. Both professional and amateur skaters will take over the Elmhurst YMCA's outdoor skating rink in this exciting exhibition from 7-8 p.m. Seating is limited, so reserve your seats today. At Elmhurst Toyota, we believe this will be a fun-filled show. We encourage you to attend Skating Tricks of the Trade, a free, family-friendly event.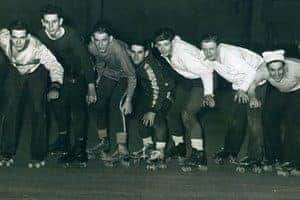 DJ Oliver will recreate that vintage roller rink atmosphere by playing music that spand from the 1940s through the present day. Many Chicagoland individual skaters and members of roller derby teams are scheduled to showcase their moves, including:
Chicago Outfit Roller Derby, an all-female roller derby league
Carrie Svihlik, a former pro skater
Chicago youth-mentoring organization, The Osiris Initiative, which helps young people with personal development through health, fitness and skating
Chicago Roller Talent, a group of professional skaters who perform at special events
The skaters will provide a roller derby demo and entertain you with popular styles and tricks dating back to the 1940s. You'll see spins, shuffles and jumps, as well as the popular Chicago style of JB (James Brown) skating. The YMCA will be selling food and soft drinks, with proceeds to benefit the YMCA scholarship fund. In case of rain, this event will be rescheduled for Thursday, July 26.
Skating Tricks of the Trade is presented in conjunction with the Elmhurst History Museum's latest exhibit, Chicago Rink Rats: The Golden Age of Roller Skating. So, take in the show and check out the exhibit, which runs through November 4.
Dates and Times:
July 18, 7-8 p.m. Doors open at 6:30 p.m.
Location:
Elmhurst YMCA
211 W. First St.
Elmhurst, IL 60126
Admission:
Free.
For More Information:
Call the Elmhurst History Museum at 630-833-1457, email ehm@elmhurst.org or visit the website at www.elmhursthistory.org.