Find Snoopy in the Snoopypalooza Scavenger Hunt – Elmhurst Toyota Dealer
It's spring break, and the Elmhurst History Museum is celebrating Snoopypalooza, a full week of family-friendly activities. Now through Saturday, March 31, kids can participate in a fun event called the Snoopypalooza Scavenger Hunt. To enter the scavenger hunt, you'll need to stop at the museum first to pick up a list of clues. Based on the clues, children can search for Snoopy in the Elmhurst City Centre. At every hiding place, special stamps will be given out that can be redeemed at the museum for prizes. Here at Elmhurst Toyota, we appreciate any activity that helps keep kids busy and entertained during spring break. No parent wants to hear the dreaded words, "I'm bored!"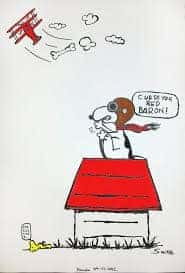 Children of all ages are welcome to join in the Snoopypalooza Scavenger Hunt during regular museum hours. You can combine a fun activity for the kids with shopping and running errands at the Elmhurst City Center. All children must be accompanied by an adult to participate in the scavenger hunt.
The lovable comic strip character of Snoopy appeals to people of all ages. You can learn more about the cute canine at the museum's current exhibition, Snoopy and the Red Baron. In his imagination, Snoopy becomes the Flying Ace, a daring World War I pilot determined to defeat the dastardly Red Baron. He does it all from atop his doghouse, which is featured in the exhibit. There will also be lots of other Snoopy character collectibles, toys and books on display. You can even stand next to Snoopy's doghouse and take selfies in his aviator cap and googles!
There are Snoopy events happening all week at the museum, so visit the website for details. The Snoopy and the Red Baron exhibit is on loan from the Charles M. Schulz Museum and Research Center in Santa Rosa, California.
Date and Time:
Through Saturday, March 31 during museum hours
Closed on Mondays
Tuesday through Friday, 1-5 p.m.
Saturday, 10 a.m.to 5 p.m.
Sunday, 1-5 p.m.
Location:
Begin the scavenger hunt at Elmhurst History Museum
120 E. Park Avenue
Elmhurst, IL 60126
Admission:
Free
For More Information
Call 630-833-1457 or visit www.elmhursthistory.org/323/Family-Programs.org.