Get Inspired at Hope Through Music: A Benefit Concert – Elmhurst Toyota Dealer
If you're a fan of country music and jazz, you'll want to make sure to attend Hope Through Music: A Benefit Concert on Friday, August 23 at Elmhurst Christian Reformed Church. The concert takes place from 7-9:30 p.m. and features Kerrie Roberts and Chris August. The proceeds from the event will go to help the children of South Sudan who have been affected by war and famine. At Elmhurst Toyota, we're constantly impressed with the community events available to residents of Elmhurst and we hope you can make it out to this concert and help support a good cause.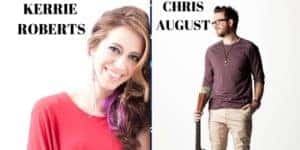 Kerrie Roberts is a contemporary Christian musician who currently has two albums and an EP available. The daughter of a pastor and the director of the church choir, Kerrie started performing music when she was five years old, singing in her mother's choir. A Dove Award nominee, Kerrie's most popular songs include "What Are You Afraid Of," "Outcast" and "No Matter What." Her music ranges from pop to ballads, with themes that encompass strength, joy, empowerment and encouragement. You won't want to miss Kerrie's fine vocal performance at Hope Through Music.
Chris August is also a contemporary Christian artist. His track, "Starry Night," made it to the top of the 2010/2011 Billboard Christian Songs chart. Chris received the Dove Awards for Pop/Contemporary Recorded Album of the Year, Male Vocalist of the Year and New Artist of the Year. Chris's popular tunes include "7×70," "The Maker," "Restore" and "Center of It."
Date and Time:
August 23, 7-9:30 p.m.
Location:
Elmhurst Christian Reformed Church
149 W. Brush Hill Rd.
Elmhurst, Illinois 60126
Admission:
Purchase tickets to Hope Through Music online at https://bit.ly/2Z0RQxN.
Presale General Admission: $15
Group rates of 10 or more: $25 each
Presale VIP: $35
For More Information:
Call 630-512-8673.