Get Inspired by Works on Paper at Elmhurst College – Elmhurst Toyota Dealer
There are many wonderful art exhibits in Elmhurst this fall. We're lucky to live in a community with so many cultural offerings. We at Elmhurst Toyota wanted to let you know about a show that's taking place at Elmhurst College, called Works on Paper. This exhibit features three very talented Latino artists who are based in Chicago: Herman Aguirre, Javier Chavira and Gabriel Villa. The artists work in different styles and media.
Herman Aguirre
Herman Aguirre's paintings depict the effects of the Mexican drug cartel wars. He was one of eight artists to have received a $50,000 award in 2017 from the Leonore Annenberg Fellowship Fund for the Performing and Visual Arts. Aguirre holds a Master of Fine Arts from the School of the Art Institute of Chicago.
Javier Chavira
Javier Chavira paints images of nature that overlap the realms of abstraction and realism, combining formal academic training with the modern aesthetic sensibilities of Formalism.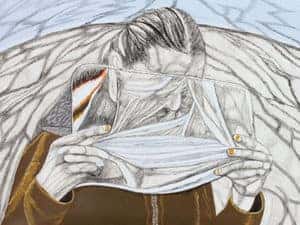 Gabriel Villa
Gabriel Villa's work depicts the struggles of daily life. He is an award-winning Chicago-based artist who is originally from the border region between El Paso, Texas and Ciudad Juarez, Mexico. Villa served as Director of Yollocalli Arts Reach at the National Museum of Mexican Art, and was co-curator at the National Museum of Mexican Art's Chicago Kraft Foods Gallery. He received a Master of Fine Arts from the University of Delaware.
Works on Paper is one of many art exhibitions hosted by Elmhurst College each year at two campus locations. The A.C. Buehler Library houses the college's permanent collection of Chicago Imagist and Abstractionist Art, which chronicles the work of Chicago artists that was produced between 1950 and today.
Date and Time:
Works on Paper is open to the public though Saturday, Nov. 11. The exhibition is open Monday to Saturday from 8 a.m. to 9 p.m., and Sunday from 10 a.m. to 9 p.m.
Location:
Founders Lounge of the Frick Center
Elmhurst College
190 Prospect Ave.
Elmhurst, IL 60126
Admission:
Admission to the exhibition is free.
For More Information:
Call Suellen Rocca, director of exhibitions at 630-617-6110 or email srocca@elmhurst.edu.