Have a Spooky Day on Boo-tiful Saturday – Elmhurst Toyota Dealer
Kids can have a fun Halloween celebration at Boo-tiful Saturday, which takes place on Saturday, Oct. 26. The festivities begin at 9:30 with a free showing of "Hotel Transylvania" at the York Theatre. The spooky fun continues as trick or treating commences for kids 12 and under at popular City Centre merchants from 11 a.m. to 1 p.m. Look for the Trick or Treat Stop Signs in the doors and windows of participating businesses. Have your kids don their Halloween costumes, and make sure to bring the treat bags. There will be even more fun for everyone at the City Centre Fountain Plaza, complete with a DJ, dancing and prizes from 11 a.m. to 1 p.m. At Elmhurst Toyota, we believe Boo-tiful Saturday be a fun day of Halloween events the entire family will love.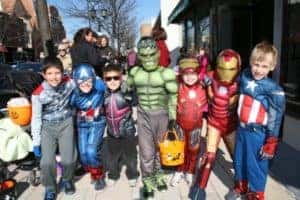 "Hotel Transylvania" is a PG-rated animated comedy film that tells the story of a boy who discovers Count Dracula's five-star, monsters-only hotel in Transylvania and falls for the count's teenaged daughter. "Hotel Transylvania" features the voices of a long list of stars, including Steve Buscemi, Fran Drescher, CeeLo Green, Selena Gomez, Kevin James, Andy Samberg, Adam Sandler, Molly Shannon and David Spade. The film premiered on September 8, 2012, at the Toronto International Film Festival.
Don't miss the fun on Boo-tiful Saturday, a day which has become an Elmhurst Halloween tradition. Bring the kids to City Centre on Saturday for a great day of creepy events. We know it will be a great time.
Date and Time:
Saturday, Oct 26
Showing of "Hotel Transylvania" at the York Theatre at 9:30 a.m.
Trick or Treating at City Centre Merchants from 11 a.m. to 1 p.m.
DJ, dancing and prizes in the City Centre Plaza from 11 a.m. to 1 p.m.
Location:
City Centre Fountain Plaza
147 North York Street
Elmhurst, Illinois 60126
Admission:
Boo-tiful Saturday is free.
For More Information:
Visit www.elmhurstcitycentre.com.