It's Family Fun Time with Field Trip to the Farm – Elmhurst Toyota Dealer
Enjoy one of the last weekends of summer by taking your family on a Field Trip to the Farm on Saturday, August 25. Bob's Fresh & Local in nearby Dundee is run by Elmhurst residents and multi-generation farming family the Vierows. This is the third year for the popular field trip where you can tour the farm and learn about its operation. All of us at Elmhurst Toyota encourage you to attend the Field Trip to the Farm. It's fun to watch children discover that food grows from the earth and doesn't just magically appear in the grocery store!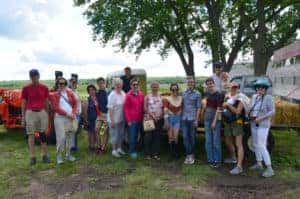 Visitors can take a hayride out to see the fields where the all-organic crops grow, check out the farm's animals, and visit the greenhouse where the organic seedlings are started. Bring lunch so you can picnic on the farm after the tour.
Vierow can trace his family's farming heritage back to the mid-1800s in Europe. Both his maternal and paternal ancestors came from Germany in the late 1800s and settled in Glen Ellyn and Addison, Illinois. Both families had dairy farms and the Vierows also sold vegetables. Bob's farming forefathers used natural methods such as crop rotation to minimize weeds, insects and other pests. Vierow still uses these time-honored traditions taught to him by his father and grandfather. He avoids chemical fertilizer, pesticide and weed killer on his crops.
RSVPs are required for the Field Trip to the Farm, so please call 630-426-9789 or email ecoolcities@gmail.com today to reserve your places.
Date and Time:
Saturday, August 25, 2018, 10 a.m. to 12 p.m.
Location:
Bob's Fresh & Local
Brunner Family Forest Preserve
18N681 Illinois Rt. 31
Dundee, IL
Admission:
Free
For More Information:
Visit www.elmhurstcoolcities.org, email ecoolcities@gmail.com or call 630-426-9789.