Join the Fun at the Jolly Old St. Nicholas Concert – Elmhurst Toyota Dealer
Celebrate the holiday season with the Elmhurst History Museum's annual Jolly Old St. Nicholas Concert on Friday, November 30 at 6:30 p.m. This family-friendly event at York Presbyterian Church provides holiday fun and entertainment for all ages. You'll hear local German choirs singing traditional German Christmas carols. There will be photo opportunities with St. Nick and refreshments, too. Children can even wear their pajamas! All of us at Elmhurst Toyota encourage you to join in the fun at the Jolly Old St. Nicholas Concert.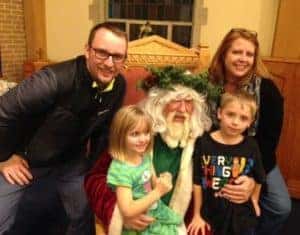 Some of Elmhurst's early settlers were German immigrants, and this concert celebrates the city's German heritage and holiday traditions. The two local choirs singing authentic German Christmas carols are called Damenchor and Männerchor, which translates into "women's choir" and "men's choir." Both have been performing in Elmhurst and surrounding areas for over 80 years
Jolly Old St. Nick will talk about some of the myths and legends surrounding the original St. Nikolaus, who died in the year 343. He was depicted as a kindly old bishop who knocked on the doors of houses to ask about the behavior of any children who lived there, and well-behaved children would receive gifts. This tradition continues at the concert, where each child will receive a small gift from St. Nick
The Jolly Old St. Nicholas Concert is free for the entire family. Instead of paying an admission fee, you're encouraged to make a monetary donation to the giving tree in support of the Elmhurst-Yorkfield Food Pantry. This organization has been assisting residents of Elmhurst and surrounding areas with food, hope and compassion for 35 years. Your donation will help feed hungry families this holiday season.
There's no registration required to attend the Jolly Old St. Nicholas Concert, now in its fifth year. It's free, appropriate for all ages and supports the Elmhurst-Yorkfield Food Pantry. It's a wonderful way to celebrate the season and create warm holiday memories with your family. We hope to see you there!
Date and Time:
November 30, 2018, 6:30-8 p.m. Doors open at 6 p.m.
Location:
Yorkfield Presbyterian Church
1099 S. York St.
Elmhurst, IL 60126
Cost:
Free.
For More Information:
Call 630-530-6879 or visit www.elmhursthistory.org.