Learn the Secrets of the Dinosaurs at Lizzadro Museum's Dino Activity Day – Elmhurst Toyota Dealer
Even though dinosaurs have been extinct for millions of years, they still capture our imagination. We see them depicted in movies, on television and even in dinosaur-shaped food. If your kids are interested in learning more about dinosaurs, be sure to take them to the Lizzadro Museum of Lapidary Art's Dino Activity Day on Saturday, Jan. 6, 2018 from 10 a.m. to 3 p.m. Kids ages five and older can see and touch actual fossils and even create their own fossil imprints to keep! All of us at Elmhurst Toyota encourage you to check out this fun, educational event for your school-aged children.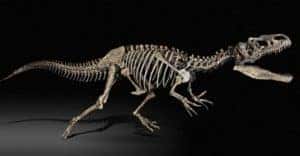 Kids will learn about Earth science as well as dinosaurs. They'll touch real fossils from the museum's collection, which show extinct plants and animals preserved in stone for eternity. Putting together a 3D bone puzzle lets children imagine they're real scientists piecing together a giant dinosaur. Fun opportunities to learn more will be ongoing throughout the Dino Activity Day, so you can stop by whenever it's convenient. No reservations are required.
The museum has many fossils on permanent display, including a Tully Monster, the state fossil of Illinois. There are also hundreds of other beautiful, artisan-crafted decorative items, including rock carvings, mosaics, dioramas, minerals, cameos, gemstones and over 200 pieces of carved jade. One of the most amazing items in the museum is Castle Lizzadro. This perfect, miniature castle gleams in 18 karat gold and is decorated with diamonds and other precious stones. It was created in 1984 as a memorial to the grandson of the museum's founder.
If you know a young person who is interested in dinosaurs or science, you won't want them to miss this fun day of interesting educational activities.
Date and Time:
Saturday, Jan. 6, 2018, 10 a.m. – 3 p.m.
Location:
Lizzadro Museum of Lapidary Art
220 Cottage Hill Ave.
Elmhurst, IL 60126
Admission:
Admission is $5 per person.
For More Information:
Visit www.lizzadromuseum.org, email info@lizzadromuseum.org or call (630) 833-1616.