McCormick House: 1952-1959 Features Reimagined Interiors – Elmhurst Toyota Dealer
There's still time to visit McCormick House: 1952-1959, which runs through Sunday, January 20. This beautiful installation features a newly designed, complete mid-century interior for the Children's Wing of the McCormick House. Two talented interior architectural designers used photos from inside McCormick House in the 1950s as their modern-day inspiration. All of us at Elmhurst Toyota encourage you to visit McCormick House: 1952-1959 during regular museum hours to see the Children's Wing as it might have looked. We're lucky to have this unique and architecturally-important home right here in Elmhurst.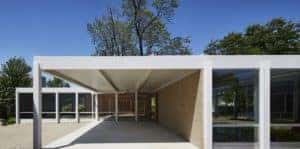 The McCormick House was designed in 1952 by famed German-American architect and pioneer of modernist architecture, Ludwig Mies van der Rohe. The structure was originally built by Mies, as he was known, as a prototype for pre-fabricated homes. Real estate developer Robert Hall McCormick III hoped to build and sell these homes, but there wasn't enough demand for the sleek, glass and steel houses. Instead, McCormick and his family moved into and lived in what is now known as the McCormick House during the 1950s.
For the McCormick House: 1952-1959 installation, Chicago interior architectural designers Ryan Monteleagre and Robert D. Kleinschmidt of RDK Design used photographs from the interior of the McCormick House when it was originally occupied as a family home. The designers curated mid-century furnishings to create four rooms, including a living room and dining area, bedroom and study, in what's known as the home's Children's Wing.
McCormick House: 1952-1959 wouldn't be possible without the help of many generous donors. The Elmhurst Art Museum thanks Chicago Bauhaus & Beyond, the Elmhurst Artists' Guild, Gary and Laura Maurer and the museum's Programming Committee for their support. Donations of mid-century furnishings and installation were made by RDK Design, Cedric Hartman, Oscar Isberian Rugs, The Furniture Shop, Inc., Utopio Workroom and private collections.
Don't miss seeing the McCormick House with its newly furnished, 1950s-era Children's Wing as reimagined by two modern-day interior architectural designers. We think you're going to enjoy it.
Date and Time:
Through Sunday, January 20, 2019, during regular museum hours: Tuesday through Sunday, 11 a.m. to 5 p.m.
Location:
Elmhurst Art Museum
150 Cottage Hill Ave.
Elmhurst, IL 6026
Admission:
Adult admission is $12.
Senior admission (aged 65 and older) is $10.
Anyone aged 18 and under, students with school ID and museum members are admitted free.
For More Information:
Visit www.elmhurstartmuseum.org or call 630-834-0202.