Meet and Greet Chicago Artist Hebru Brantley – Elmhurst Toyota Dealer
Regular readers of this blog know that all of us at Elmhurst Toyota support the activities of the Elmhurst Art Museum. We're happy to let our customers know about a new exhibit at the museum by Chicago artist Hebru Brantley, along with an opportunity to meet the artist on Saturday, September 9.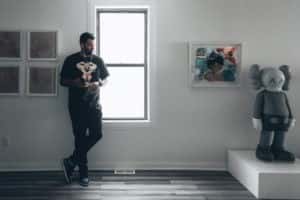 You may be familiar with Brantley's work, which includes public art commissions like the eight-panel mural at the McCormick Place CTA Green Line station and Chi Boy on S. Wabash.
Brantley, who grew up in Chicago's Bronzeville neighborhood, cites pop culture icons as his influences. These include anime and comic book superheroes, plus street artists like Keith Haring, Jean-Michel Basquiat and KAWS.
Brantley teamed up with Chance the Rapper to create the video of the song "Angels," providing the animation and art direction. The Chicago Tribune called the video "the ultimate love letter to Chicago." His recent Miami Beach exhibition reimagined modern folklore by including African-American superheroes into the history of American comics.
Brantley's signature characters, Flyboy and Flygirl, began as allusions to the Tuskegee Airmen of World War II. They have since evolved to star in their own adventures. He has exhibited in London, Switzerland, Atlanta, Los Angeles, Miami, New York, Seattle and San Francisco.
Date and Time
Meet-and-Greet with artist Hebru Brantley takes place on Saturday, September 9, 2017 at 2:30 p.m. The exhibit, "Hebru Brantley: Forced Field" opens the same day and runs through November 26, 2017.
Location
Elmhurst Art Museum
150 Cottage Hill Ave.
Elmhurst, Illinois 60126
A shuttle will be provided from two locations in Chicago to take passengers to Elmhurst on Saturday, September 9 at 10 a.m., 12 p.m. and 2 p.m. Pick up locations are:
Little Black Pearl Workshop, 1060 E. 47th St., Chicago, IL, 60653
LAZ Parking Lot, 651 S. State St., Chicago, IL, 60605
The shuttle will leave from the museum at 1 p.m., 3 p.m. and 5 p.m. to drop passengers off at the same Chicago locations.
Admission
Admission to the meet and greet is free with museum admission and for members.
For More Information
Contact the Elmhurst Art Museum at 630-834-0202 or visit the museum's website at www.elmhurstartmuseum.org.