Outdoor Fun at Eldridge Adventure Day – Elmhurst Toyota Dealer
The Elmhurst Parks Department invites your entire family to choose your own adventure at Eldridge Adventure Day on Sunday, June 9. At the event, which starts at 10 a.m. and runs until 1 p.m., kids will be treated to a day of fun and nature discovery. There are many activities planned for this exciting day, including a petting zoo, bug hunts, carnival games and even a fishing derby. There's so much to do, it might be hard to decide which activities to join. All of us at Elmhurst Toyota are glad there are so many community events in Elmhurst for families to take advantage of, and we know this will be a fun time for your family. So, Visit Eldridge Park on Sunday and experience Eldridge Adventure Day!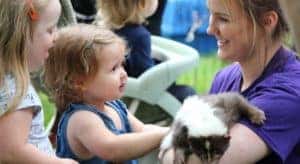 Other activities include a balloon twister and face painting. Of course, our favorite food trucks will be on hand to provide tasty meals and snacks, including Kona Ice, Mario's Cart and Smallcakes.
The bug hunts take place at 10:30 a.m., 11:15 a.m. and noon. Kids 14 and under can enter the fishing contest, which is sponsored by the Elmhurst Police Department. Anyone 14 and older can still enjoy fishing in the lagoon.
Many local organizations teamed up to make Eldridge Adventure Day happen, including Edward-Elmhurst Health, Courts Plus and the Schiller Team. The Community Bank of Elmhurst once again helped out to provide parking for attendees.
Make plans to visit Eldridge Park on Sunday for Eldridge Adventure Day. Your kids will have a lot of fun and it's a great way to enjoy your Sunday.
Date and Time:
Sunday, June 19, 10 a.m. to 1 p.m.
Location:
Eldridge Park
Elmhurst, IL 60126
Admission:
Admission is free. The fishing derby is open to children age 7 and over. Bring your own pole, bait and tackle.
For More Information:
Visit www.epd.org.