Rock the Block to Block Party – Elmhurst Toyota Dealer
The Block to Block Party at Elmhurst City Centre on Wednesday, July 24 offers hours of fun and entertainment for the entire family. This summer event encourages people to get outdoors and listen to live music at Fountain Plaza and North York Plaza. Bands perform from 5:30 to 8:30 p.m. and give you a taste of what Chicagoland musicians are all about. At Elmhurst Toyota, we believe this is one of the best ways to spend a warm Wednesday evening in the city.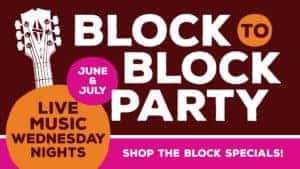 The lineup for July 24 includes The Pheromones at the Fountain Plaza and Blue Aura at North York Plaza. Both bands have their own distinct styles and sounds that will appeal to listeners of all ages.
The Pheromones are a high-energy trio of musicians who play upbeat rock and pop music. The band is fronted by local musicians Steve Mast and Jeremy Mederich, whose harmonies will stop you in your tracks. You'll want to get up and dance when you hear the Pheromones play.
Blue Aura transcends generations with music from many decades. The band is made up of local musicians Steve Paikai (guitar and vocals), Robert Villasenor (bass) and Jessica Moran (vocals). Blue Aura's family-friendly playlist includes hits from the 1970s as well as today's contemporary music by artists like Bruno Mars. There's no end to Blue Aura's talent or the band's desire to entertain. They can even take requests at their performance at the Block to Block Party via text during the set!
The Block to Block Party will be a fun time for everyone, so head over to Elmhurst City Center on Wednesday night.
Date and Time:
July 24, 2019, 5:30-8:30 p.m.
Location:
Elmhurst City Centre
147 North York
Elmhurst, IL 60126.
Fountain Plaza is at York and Schiller Streets.
North York Plaza is in the 200 block of North York.
Admission:
Admission is free.
For More Information:
Call 630-993-1600 or visit www.elmhurstcitycentre.com.