Run for a Cause at Dan Gibbons Turkey Trot – Elmhurst Toyota Dealer
On Thanksgiving, Thursday, Nov. 28, you'll have the opportunity to take part in a great community event, as the 36th Annual Dan Gibbons Turkey Trot commences once again. This 5K fun run is designed for individuals, groups and families. The event begins at 7 a.m., with the race starting at 9 a.m. At Elmhurst Toyota we look forward to the Dan Gibbons Turkey Trot every year. Participants have a fun time, as well as the satisfaction that comes with knowing they helped the hungry in DuPage County. The event has provided nearly 4 million meals over the years.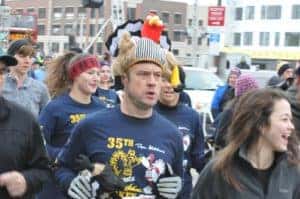 The Dan Gibbons Turkey Trot began in 1983. Dan was listening to WGN radio and heard Ed Schwartz report that the city of Chicago was spending $300,000 on New Year's Eve fireworks. Dan thought that money could have been better spent helping the area's hungry residents. Dan became a volunteer in Schwartz's Good Neighbor Food Drive in DuPage County.
Dan wanted to help even more, so along with a few friends, he started a 5K race in 1984 designed to provide the area's needy families with food during the Thanksgiving season. That first race included 74 runners and raised $520. Over time, the race became an annual tradition here in Elmhurst. To date, the Dan Gibbons Turkey Trot has raised close to $3.9 million to fight hunger in DuPage County.
Thanksgiving is almost here, so register soon if you'd like to participate. If you're not a runner, you can still attend and cheer on your friends and neighbors.
Date and Time:
Thanksgiving Day, Thursday, Nov. 28, 2019. Race day registration begins at 6:30 a.m., and the race starts at 9 a.m. For a complete race day schedule, go to bit.ly/2AdHD1h.
Location:
Park Avenue at Adell Place in Elmhurst. The 5K course is 3.1 miles.
Registration:
Registration is $35 ($40 on race day). Registration is available three ways:
Online at https://bit.ly/37svC9F. Online registration is $35 until 5 p.m. on Nov. 24. It is then $40 until online registration closes on Wednesday, Nov. 27 at noon.
In-person on Saturday, Nov. 23 and Sunday, Nov. 24, 11 a.m. to 5 p.m. at:
Knights of Columbus
537 S York St, Elmhurst, IL 60126.
Parking in rear.
On race day, Nov. 28, 6:30-8:45 a.m.
Elmhurst College Gym
221 Walter St
Elmhurst, IL 60126
Registration details are available at bit.ly/2h9bHmS.
Admission:
Spectators can attend for free.
Parking and Trolleys:
Visit bit.ly/2hgR2RN for information on parking and trolleys.
For More Information:
Visit dangibbonsturkeytrot.org, email info@dangibbonsturkeytrot.org or call 630-415-2816.