See How High You Can Fly at Kite Fest – Elmhurst Toyota Dealer
A day of free family fun awaits you at Kite Fest 2019 on Saturday, August 10 at Berens Park. Lots of exciting activities are planned from 11 a.m. to 2 p.m. Kids can get a free lesson on building their own kites, enter a hula hoop contest, enjoy professional sport kite performances and fly kites with the family. At Elmhurst Toyota, we look forward to this annual event. It's a great way to spend a Saturday afternoon, whether you're a kid or just a kid at heart.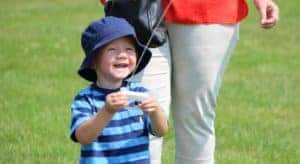 This year's Kite Fest features a schedule that you and your family are sure to enjoy. You'll be dazzled by the sport kite performance demonstrated by professional kite flyers. The whole family will be caught up in the fun and excitement of bol races. In case you've never seen one before, a bol kite is shaped like a bowl with a hole in the bottom. These kites come in different sizes and can be attached to adults or children with a harness. The racers try to cross the finish line first, while the large, buoyant bol kite catches the wind and nearly pulls them backward.
Bring your appetite, because lots of food trucks will be on hand to satisfy your cravings, including BabyQ's BBQ, Barbeque Jim's Catering, Chesa's Gluten Tootin' Free, Smallcakes, Starbucks, Tamale Spaceship, Toasty Cheese and Windy City Ice Cream. Don't miss the Candy Drop (depending on the wind), when candy drops from the sky over the crowd.
The Kite Fest is sponsored by Edward-Elmhurst Health and Courts Plus. We hope you have a chance to get out to Berens Park and take advantage of this fun event.
Date and Time:
Saturday, August 10, 2019, 11 a.m. to 2 p.m.
Location:
Berens Park
493 N. Oaklawn Ave.
Elmhurst, IL 60126
Admission:
Free.
For More Information:
Visit www.epd.org or call 630-993-8900.