Take in Some Art at the EAG Fall Members Show – Elmhurst Toyota Dealer
Art lovers will have a great experience at the Elmhurst Artists' Guild (EAG) latest exhibit, the EAG Fall Members Show, which runs through October 11 at the EAG Gallery at the Elmhurst Art Museum. This is a great opportunity to view the works of many of the local artists here in the Elmhurst area. At Elmhurst Toyota, we support the local arts community and we urge everyone to head over to see this great exhibit.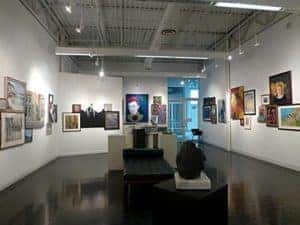 The EAG Fall Members Show highlights the work of our area's artists in several different styles and media. You'll discover acrylic, oil and watercolor paintings, as well as work by talented photographers, digital artists, sculptors and ceramic artists.
Many of the works you'll see at the EAG Fall Members Show are for sale. Buying art at the EAG Gallery is an opportunity to pick up world-class artwork at affordable prices. It's a great way for collectors to add new work to their collections and it helps to enliven homes and offices.
The EAG Gallery is a nonprofit that's run by the Elmhurst Artists' Guild. EAG members come from diverse backgrounds, including a range of artists, educators and corporate art directors.
Visit the EAG Gallery and take in the EAG Fall Members Show. You'll find many art pieces to enjoy and purchase for your home or your office. It's a wonderful way to support our local artists.
Date and Time:
The exhibit runs through Oct. 11, 2019, during the Museum's regular business hours, Tuesday through Sunday, 11 a.m. to 5 p.m.
Location:
The Elmhurst Artists' Guild Gallery
Elmhurst Art Museum
150 S. Cottage Hill Ave.
Elmhurst, IL 60126
Admission:
Admission for adults is $15. $12 for seniors 65 and over. EAG members, Museum members, children under 18 and students with school ID are admitted free. Admission is free for all visitors on the first Friday of every month.
For More Information:
Visit www.elmhurstartmuseum.org or www.elmhurstartistsguild.org.