Toyota Corolla Hybrid Named 2020 Car of the Year – Elmhurst Toyota Dealer
The Toyota Corolla is the world's best-selling nameplate, so it's not surprising that the Rocky Mountain Automotive Press Association (RMAP) named the all-new Toyota Corolla Hybrid its 2020 Rocky Mountain Car of the Year. The 2020 Toyota Corolla debuted last spring, featuring improved driving dynamics, updated styling, and the introduction of the Corolla Hybrid to the United States. At Elmhurst Toyota, we're proud to learn the Toyota Corolla Hybrid received this prestigious award.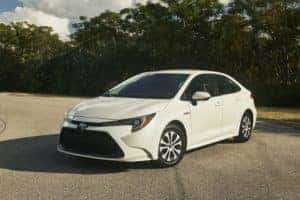 "We are honored to receive this award for the all-new Corolla Hybrid," said John Mineweaser, assistant general manager of the Toyota Denver Region. "This vehicle is another efficient and value-based offering in our lineup that provides more options for our customers based on their needs."
To date, the Toyota Corolla sold over 46 million units across the globe since its introduction. The new 12th-generation Corolla is better than ever, powered by a new 2.0-liter engine that generates 169 horsepower and 105 lb-ft of torque, paired with a continuously variable transmission (CVT). The Corolla comes with the latest technology features, as well as Toyota Safety Sense 2.0.
Under the hood, the award-winning Toyota Corolla Hybrid has a Hybrid Synergy Drive, which combines a 1.8-liter four-cylinder gasoline engine with two motors. The new hybrid system delivers quick acceleration while also providing outstanding fuel-efficiency. The Corolla Hybrid gets an estimated fuel-economy rating of up to 52 mpg in combined driving. Toyota's hybrid battery warranty is now 10 years or 150,000 miles, whichever comes first, offering owners even greater peace of mind.
The RMAP evaluates several vehicles annually before choosing four models as finalists. To qualify for consideration, a vehicle must have added a new powertrain element or undergone a major redesign. Each RMAP member must also test drive the vehicle. The competition for the 2020 award in the sedan category included the 2019 BMW M850i xDrive convertible, 2020 Subaru Legacy and 2020 Nissan Versa.