Train Songs of America with Dean Milano – Elmhurst Toyota Dealer
Don't miss folk musician Dean Milano as he presents Train Songs of America at the Elmhurst History Museum's Education Center on Saturday, Jan. 11, from 2-3 p.m. Dean will perform several exciting musical selections of train-themed songs from America's past, many of which are well-known and a few that are more obscure. Train Songs of America includes a slideshow of images of trains throughout history. At Elmhurst Toyota, we're sure this will be an interesting and entertaining afternoon event, and we encourage you to attend. The program is suitable for all ages.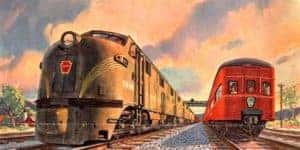 Trains have been the subject of songs since the first half of the 19th century. Train songs are represented in a diverse range of genres, including folk, blues, country, jazz and rock. The earliest known train song, "The Carrollton March," was copyrighted on July 1, 1828, predating the first public railway in America by two years. The song was written by Arthur Clifton to commemorate the groundbreaking of the Baltimore & Ohio Railroad.
Dean Milano was born in Milwaukee. He has decades of experience singing and playing guitar. Dean's songs are a reflection of his extensive musical background across many genres. His compositions run from comedic to reflective, and cover a wide range of topics. He has played at many popular venues in Chicagoland over the years. Dean is the author of "The Chicago Music Scene: 1960s and 1970s."
Train Songs of America with Dean Milano promises to be a lot of fun, so head to the Elmhurst History Museum on Saturday for this family-friendly event.
Date and Time:
Saturday, Jan. 11, 2020, 2-3 p.m.
Address:
Elmhurst History Museum Education Center
120 East Park Avenue
Elmhurst, IL 60126
Admission:
Free. Registration required. Register at https://bit.ly/2s4Mh3a.
For More Information:
Call 630-833-1457 or visit https://www.elmhursthistory.org.