Watch Mostly Mozart with the ESO – Elmhurst Toyota Dealer
The Elmhurst Symphony presents Mostly Mozart, beginning Sunday, Nov. 23, at 3 p.m. through Dec. 6. The second of two virtual fall musical programs, Mostly Mozart allows audiences to see acclaimed pianist Ran Dank perform Mozart's Piano Concerto No. 14 in E-flat Major. Dank will perform with the ESO musicians using state-of-the-art video technology. At Elmhurst Toyota, we appreciate the ESO, and we're glad they are able to continue finding innovative ways to perform during the pandemic. The Mostly Mozart program is a great way to enjoy this exciting program from the comfort of your home.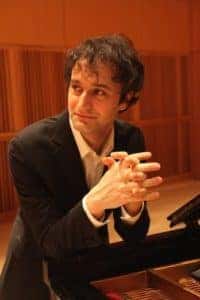 The Mostly Mozart program will be conducted by ESO Music Director and Conductor Stephen Alltop. "Mostly Mozart" also showcases compositions by Samuel Coleridge-Taylor, a creative composer of enchanting and expressive works. You'll enjoy two movements from his Four Noveletten for Strings.
Completed in 1784, Mozart's Piano Concerto No. 14 in E-flat Major is presented in three movements. It has been hailed as one of Mozart's best concertos. Audiences will enjoy the dramatic energy of the piece, about which writer Thomas May said:
"Within the first minutes he introduces a parade of at least five different themes, as if gathering a variety of characters on stage. These mercurial changes set the tone for what is to come as the soloist enters and engages with the ensemble – at times completing its phrases as tenderly as a lover, at others stealing its limelight. Mozart's fertility of imagination is evident in how he isolates the seemingly casual trill from the concerto's very opening theme as an item ripe for the development section."
Date and Time:
Sunday, Nov. 22, at 3 p.m. through Dec. 6, 2020.
Location:
Mostly Mozart is a virtual event.
Admission:
Tickets for the program are $28 for adults and $25 for seniors. Tickets can be purchased on the ESO website: www.elmhurstsymphony.org or by mailing a check to:
Elmhurst Symphony Orchestra
P.O Box 345
Elmhurst, IL 60126
For More Information:
Email elmhurstsymphonytix@gmail.com or call 630-941-0202.