You'll Love Elmhurst Children's Theatre's 'Newsies' – Elmhurst Toyota Dealer
Elmhurst Children's Theatre presents Disney's Newsies, the Broadway Musical. This turn-of-the 20th-century drama will have four performances, Jan. 24-26, at the Timothy Christian's School's auditorium. The cast features actors and actresses in the 8th grade. At Elmhurst Toyota, we're sure this will be another impressive performance by this talented local theatre group. We hope you'll make plans to attend one of the performances.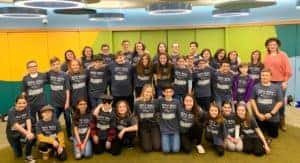 Newsies the Broadway Musical is based on the 1992 film of the same name, which was inspired by the Newsboys Strike of 1889 in New York City. Newsies tells the story of Jack Kelly, a New York City newsboy who leads a band of teenaged "newsies," who make their money selling newspapers. When the big newspaper publishers raise the price of distribution at the expense of the newsies, Jack organizes a strike to fight the unfair conditions.
The Elmhurst Children's Theatre's production of Newsies is directed by Helen Knudsen. Andrea Figueroa is the Music Director and the choreography is by Nina Davalos. The production features a live orchestra. The talented young performers include many of ECT's seasoned actors, including Emerson Graham, Rose Donato, William Fischer, Brandon Cello, Sarah Huber, Gio Santoro, Declan Fahey and Lily Galarza.
This will be a fun and entertaining event. Show your support for Elmhurst's young actors and actresses and head over to Timothy Christian School to see Newsies.
Date and Time:
Friday, Jan. 24, 7 p.m.
Saturday, Jan. 25, 3 p.m. (matinee) and 7 p.m.
Sunday, Jan. 26, 7 p.m.
Location:
Timothy Christian School
188 W. Butterfield
Elmhurst, IL 60126
Admission:
Tickets are $10 at the door. The Saturday matinee show is $8. ECT offers reserved seating and a backstage tour for groups of 12 or more. Reserved seating and the backstage tour are limited and require advance registration. Contact Mary Eileen Kungl at mekungl@elmhurstchildrenstheatre.com for more information.
For More Information:
Visit www.elmhurstchildrenstheatre.com or www.facebook.com/ECTshows.